ICE Alum Drew Johnson on Externing at a Brand New Restaurant
He was a part of the opening kitchen team for the bustling Joomak Banjum in New York City.
The externship, which provides real-life restaurant experience for Institute of Culinary Education students, is the final piece of the educational puzzle. After completing all of the kitchen classroom modules, where an ICE student has a broad culinary skill base to take with them into the industry, the externship is where a student puts those skills to work in a restaurant setting. For many students, finding the right externship fit is really what sets up their future in the restaurant industry and helps them refine not only their personal goals, but the kind of atmosphere and people they want to work with.
When I was deciding where to do my own culinary externship, I was torn between two major possibilities: whether to extern at a large, prestigious restaurant that had an established history of working with externs but where I knew I would be a small part in a big machine, or whether at a smaller restaurant where I would potentially have more hands-on experience and responsibility, but that wouldn't necessarily stand out on my resumé depending on my culinary goals. I think many ICE students on the verge of beginning their externships can relate to this, or to some other either/or scenario when it comes to making the final decision of which externship is best for them.
Related Reading: A Tale of 3 Trails: How to Choose Your Externship
For ICE Alum Drew Johnson, (Culinary Arts, '21) his culinary goals ended up leading him in an even more challenging direction that most students don't experience, but that turned out to be very beneficial: externing in a restaurant that had only just opened. Joomak Banjum, which refers to a Chinese-style tavern in Korean, is a fine dining, Korean fusion restaurant helmed by Michelin-starred restaurant alums Jiho Kim, Kelly Nam and Sarah Kang that opened in the summer of 2021 after a series of successful pop-ups in 2020. It quickly established itself as a force in New York's resurging dining scene, with media outlets such as Eater, The New York Times and Bloomberg calling it out for its imaginative approach to fusion fine dining. Joomak Banjum's website describes itself as "Korean-Chinese cuisine, executed with French technique and expressed through New York culture."
That Drew, as an ICE extern, was essentially a part of the opening kitchen team for this ambitious venture is an experience worth sharing.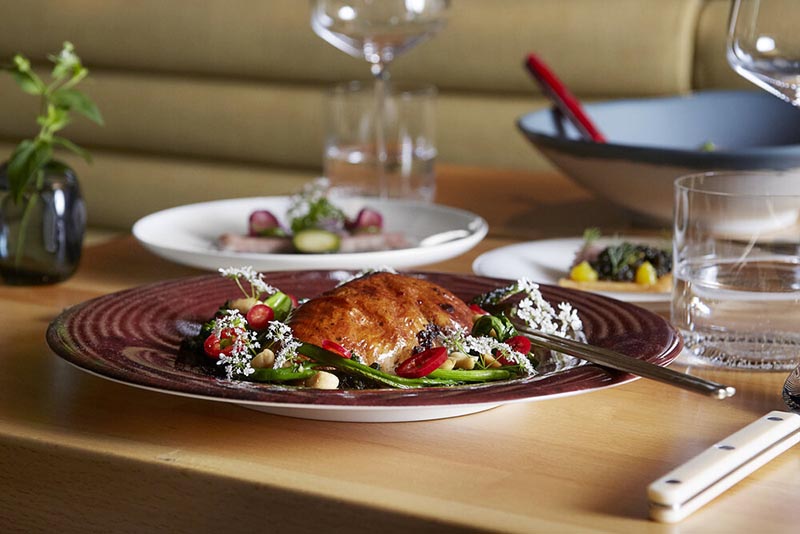 Did you have any experience cooking before attending ICE?
I went to community college for culinary arts back home in Michigan for one semester, and worked at an upscale diner that made everything in-house while I was doing it, just to kind of get my foot in the door, and make sure that it was really what I wanted to do.
When you were starting the process looking for your externship, did you have an idea of what you were looking for?
 
I knew I wanted to do a fine dining tasting menu. That was the most important thing, and then the second thing I wanted was to do something Korean, because it's a big influence for me. Where I went to high school and middle school, there was a really big Korean population, and trading food at lunch and seeing what they brought is what really opened my eyes to food.
How did you end up finding Joomak Banjum?
I was in the process of applying for externships and sending out a lot of emails, when I saw they were on the Eater Heat Map, and I thought that would be something interesting for me. I was trying to find a way to reach out to them when my advisor sent me an email he had received from one of their sous chefs looking for externs. I responded right away and was invited for an interview the next day. At the interview they asked me to come the following day to trail, and I basically got hired within two hours. That was a week after they had officially opened, so they had done a friends and family service, and maybe three other services before my first day. 
What was your experience like early in your externship with a restaurant that was still in its own early stages?
I was working on the line since day one. On my trail I was doing amuse and salad, and within the first week, I was plating everything on garde manger. When I first started, it was two sous chefs, the chef de cuisine and me.
Besides owning a station very early in your externship, were there other ways that you were given a high level of responsibility?
I feel like I saw so much there, and one thing that was really great was that the chef de cuisine never held back or held me back. Whenever there was a discussion about what they were doing, I was there and he would include me, and I felt like he really wanted me to learn. So I learned a lot about what he did to try and meet food costs and standards, and just a lot about the business side of being a chef that I wasn't expecting. And within a month I was handling caviar, uni, spot prawns; these super expensive ingredients that anywhere else an extern probably wouldn't be trusted with, but because of their situation they trusted me to handle them, and that was pretty exciting. And the amount of things that I did as an extern is probably not comparable to anywhere else. 
Did you feel like you were well prepared to work in a new restaurant in this capacity?
I was prepared in the sense that I was mentally prepared. I don't think I necessarily had the skills to be at the same level, but I didn't expect to be. I think ICE does a great job of getting you to a point where you can start. You shouldn't expect to jump into a restaurant and be great, because no matter where you studied and what restaurant you're working in, they're going to mold you to do things the way they want you to. I understood that even from working a short time in a kitchen before I started culinary school.
Would you do the externship the same way over again if you could?
Yes, I think I would, I don't think I would change anything. I think more important than it being a small restaurant or a new restaurant was that I just found a mentor. I think that's the most important thing, when somebody really cares to try and grow you. And you have the opportunity to be shaped by somebody that has worked in two- and three-Michelin-starred restaurants and has been in the industry for 10 to 15 years. There was a lot more one-on-one tutelage that's just not common. That's why I say I wouldn't trade it for anything else. Because I know I wouldn't have had the same opportunity in probably any other restaurant in the city to get the one-on-one that I did for so long. It's something that I wouldn't really give up.
What advice would you give to other students in terms of looking for an externship, and thinking outside of the box in terms of the kind of place you might want to work?
I would say don't get too focused on what you think you want, and try to broaden your terms, but know what the most important thing is to you. I should not have been looking only for Korean restaurants, even though I found one, because that was something that held me back from finding an externship sooner. But I also don't think I should have been looking for anything that wasn't a tasting menu. That's what I wanted, and that's what I still want. But I think it's important to trail and to see different things and to find something that you think is going to be good for you.