ICE Alum Mashama Bailey Wins Top Honors at 2022 James Beard Awards
The owner of The Grey in Savannah received the award for Outstanding Chef.
The Lyric Opera of Chicago was full to the brim on Monday, June 13, with some 1,800 guests for the return of the James Beard Foundation awards. And rightfully so — the hospitality industry suffered a lot during the Coronavirus pandemic, and after a two-year hiatus, there was much cause for celebration. 
"You cannot believe how happy we are to be back here live in Chicago," remarked Fred Seegal, the James Beard Foundation's Chairman of the Board. "I'm extremely proud of all the things that we've accomplished, particularly in the last several years in the time of the industry's greatest need." Changes to the awards included an audit of its policies and procedures, diversifying its committee members, increasing transparency and changing award categories (the Rising Star Chef of the Year is now called Emerging Chef.) 
Hosted by James Beard Award-winning Kwame Onwuachi, chef and owner of Kith/Kin in Washington, D.C. — who gave a terrific Oscar-worthy "we're back" cold open and wardrobe change throughout the evening — the Lyric Opera saw much applause across the board. North Carolina saw lots of love with Katie Button and Felix Meana's team receiving an award for Outstanding Hospitality, while Outstanding Restaurant was awarded to Meherwan Irani's Chai Pani, also in Asheville. (Ricky Moore's Saltbox Seafood Joint, in Durham, North Carolina, winning the Best Chef: Southeast award.) Owamni, an indigenous restaurant led by Sioux chef Sean Sherman and Dana Thompson in Minneapolis, won Best New Restaurant. 
The exciting news for the ICE community is that 2001 Culinary Arts alumna Mashama Bailey, chef and owner of The Grey in Savannah, received the top honor, winning Outstanding Chef. "I'm fortunate enough to tell you from personal experience that this award is incredibly powerful,"  Ashley Christensen, chef and owner of AC Restaurants based in Raleigh, North Carolina, said on stage. "This award recognizes not only what you put on a plate — or a to-go box — but how you celebrate and motivate your team and your community, and how your community celebrates and motivates your team and community."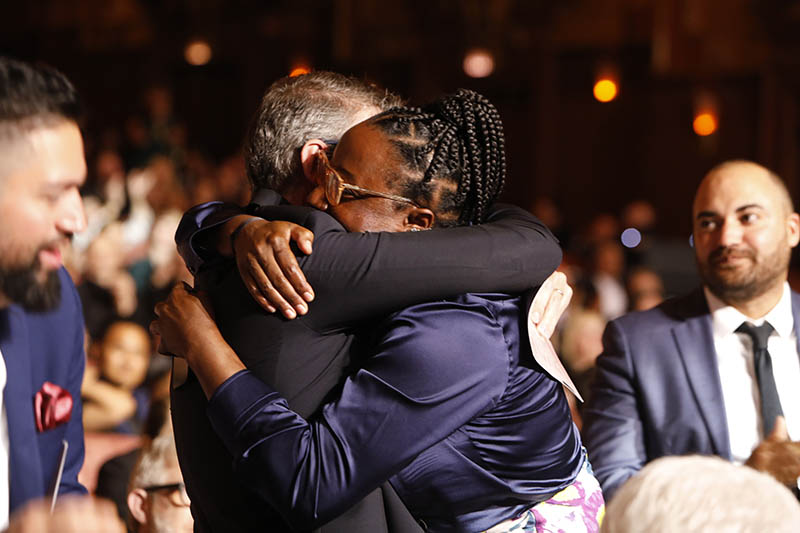 Chef Mashama enrolled in the Culinary Arts program in 2000; upon completion she went to work under Jeremy Marshall at Aqua Grill for her externship. Next, she spent a number of years at Chef Gabrielle Hamilton's Prune, ultimately rising to sous chef. In 2014, she and partner John O. "Johno" Morisano opened The Grey in a restored 1938 Greyhound bus terminal, serving up her take on Southern farm-to-table and coastal cuisine. Her cooking has garnered much acclaim, landing on Food & Wine's Restaurants of the Year list in 2015 and being hailed Restaurant of the Year by Eater in 2017. She is also the author of "Black, White, and The Grey: The Story of an Unexpected Friendship and a Beloved Restaurant." This is the second James Beard Award for Chef Mashama; she also received the award for Best Chef: Southeast in 2019. This summer, Chef Mashama will open The Grey Diner Bar and The Grey Market in Austin.
"From my ancestors, to my parents, to my mentors, to my business partner, to my chefs and to all the staff at the restaurants in Savannah and Austin, I thank you," Chef Mashama said. "Thank you for supporting me and thank you for betting on Black. Black and Brown folks, immigrants and mom-and-pop shops have been bubbling underneath the surface of this industry working hard for a long time establishing our place in American food. I stand on the backs of many of them. And today a little Black girl or a little Black boy can see themselves as a future Outstanding Chef. They can see themselves in a space that they have never seen before, and do what they could not think is possible. And until just a few minutes ago, that was me."

"The James Beard Foundation's Outstanding Chef award is the highest singular honor in America for a Chef, and we are so proud that this year, Chef Mashama was the winner," said Rick Smilow, ICE's CEO. "ICE's motto is 'Find Your Culinary Voice,' and clearly, at The Grey, Mashama has done that."
Congratulations to Chef Mashama and all of the other winners and nominees. Other ICE alumni finalists included Rachel Yang (Culinary Arts, '01) of Joule in Seattle, for Outstanding Chef, and Ayesha Nurdjaja (Culinary Arts, '07) for Best Chef: NY State.​
Related Read: Meet the ICE Alumni Among James Beard Award Semifinalists
Photos by Jeff Schear/Getty Images for James Beard Foundation⁠.