How to Plan The Perfect Valentine's Day Meal
Try these Valentine's Day meal ideas from our chef-instructors at ICE that you can make in your own kitchen.
Valentine's Day — and Gal-entine's Day! — is here once again, and there's no time like the present to plan your perfect night in.
Beyond the requisite dozen red roses and Champagne, making a Valentine's Day meal for your friend or loved one is a great way to add a personal touch to your preparations.
Here, we've compiled a list of Valentine's Day meal ideas you can make at home to celebrate. 
Appetizers & Openers
Fig & Ricotta Toast

This easy appetizer is specially formulated for Valentine's Day: figs and honey have been regarded as powerful aphrodisiacs throughout history, plus, they're a simple yet tasty combo. Add arugula and shallots to create a more complex flavor profile that will be sure to impress.  

Oysters with Champagne Mignonette

Oysters are also regarded as an aphrodisiac, and Lead Chef and Operations Manager Joshua Resnick's sweet mignonette utilizes Champagne to up the wow factor.
"I like an East Coast oyster that's not overly briny," Chef Joshua recommends. This is a luxurious opener that will set the tone for your romantic meal.

Charcuterie Board

A classy way to start any meal, the charcuterie board is highly customizable to fit every taste. While traditional selections include meats and cheeses, you can put anything you desire on your board. If you're looking for inspiration, Culinary Arts Chef-Instructor Christopher Arturo prefers a balance between "fatty, sweet and vinegar-forward flavors."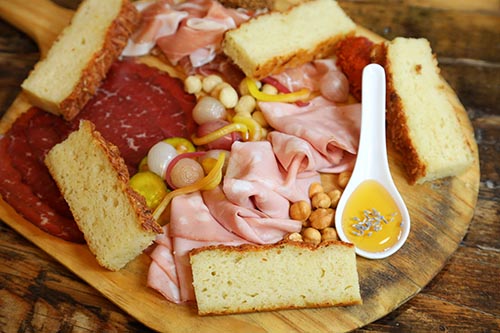 Entrees
Sous-Vide Steak

For those who like to stick to the classics, a medium-rare steak is the way to go. To better control the cooking process, try your hand at sous-vide. Be sure to allocate up to 24 hours for the steak to marinade before cooking. The ribeye is a popular cut; keep the bone for added flavor.


Grapefruit Salmon

Seafood lovers will definitely want to try this easy salmon recipe. Slow-roasting your fillets ensures full control over the cooking method, and infuses the grapefruit with the salmon. The honey glaze adds a hint of sweetness, and finish it with a cauliflower-cilantro puree for a meal that brings on the flavor. 

Plant-Based Pasta

If you're looking for a plant-based recipe, try any of these easy tricks to replace pasta elements with mushrooms and veggies without sacrificing flavor or presentation. Or, replace your wheat noodles entirely with spiralized veggies that are just as delicious as traditional pasta. You can also check out this quinoa pasta recipe for a fully-vegan meal. 
Dessert
Vegan Chocolate Recipes

No Valentine's Day meal is complete without chocolate. If you're skipping the traditional chocolate strawberries this year, try Chef-Instructor Olivia Roszkowski and Chef-Instructor Celine Beitchman's easy vegan chocolate recipes. In particular, the chocolate truffles are a perfect end to a meal and great to prep ahead of time.
Wine
Romantic Rosés

Dean of Wine Studies Scott Carney curates this list of his most romantic recommendations for a bubbly rosé, in partnership with Forbes.
"Sparkling wine skills have improved dramatically over time," he says. "This year, we will turn to bubbles, rosé bubbles, to celebrate the holiday."

Champagne Cocktails

For those that prefer a mixed drink, Director of Beverage Studies Anthony Caporale demonstrates three Champagne-based cocktails you can make at home — complete with expert mixologist tips to add some extra flair to your homemade cocktail experience. 


Non-Alcoholic Vinegar Shrub

Finally, for those who are non-alcoholic, Chef Celine Beitchman explains how to create a balanced, fizzy drink using balsamic vinegar and seasonal herbs. These are hydrating, healthy and produce a beverage with flavor and complexity without the alcohol.