Chef Joshua's Sephardic Charoset
A simple dish with a rich history
Chef Joshua shares his recipe for charoset, a Passover Seder staple. 
Charoset is a traditional dish served at Passover Seder. But exactly what that tradition looks like varies by region. Ashkenazi charoset, made with apples, walnuts and cinnamon, is the version of the dish that many people are familiar with. Lead Chef and Operations Manager Joshua Resnick's charoset recipe takes a different approach. 
Explore the Culinary Arts Career Program at ICE
Chef Joshua's recipe follows the culinary traditions of Sephardic Jews, hailing from Spain and Portugal. It calls for dates, figs and raisins, in addition to the walnuts and cinnamon commonly found in the Eastern European recipe. Substituting the apples with darker, dried fruits drastically changes the color of the dish, making the Sephardic charoset version noticeably different, though the basis of the recipe — fruit, nuts, wine — are the same.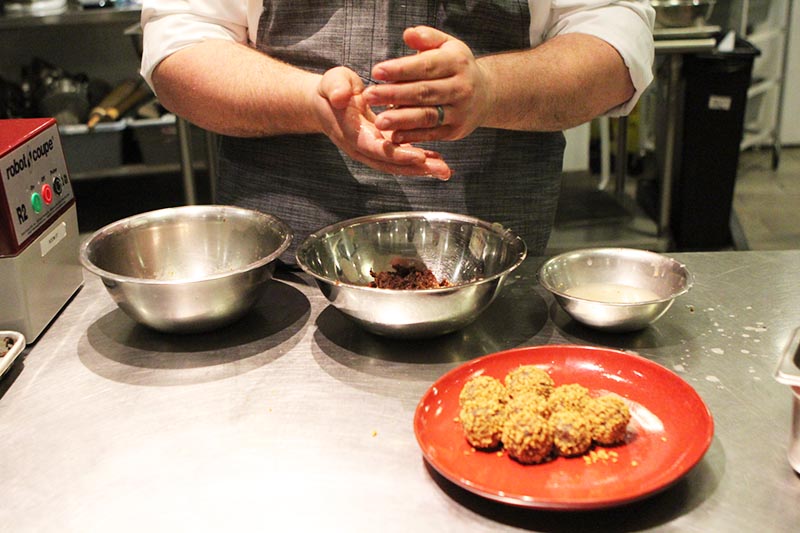 During Passover, charoset represents the mortar used by enslaved Jews in Egypt. The texture of the dried fruit mixture draws a closer resemblance to mortar than diced apples, which is why Chef Joshua chooses to use this recipe at his Passover Seder.
Check out the full recipe for Chef Josh's Sephardic charoset below.
Recipe
Charoset Bites
Yield: 20 pieces
Ingredients
200 grams toasted walnuts 
150 grams dates
50 grams figs
150 grams raisins
2 grams ground cinnamon
1/2 teaspoon allspice
30 grams red wine (ideally Manischewitz)
Directions
In food processor, blitz walnuts until chopped fine. Remove 1/2 cup and set aside.
Add dates and figs to processor and blitz until very small, about 30 seconds. Add in raisins and chop on high for another 30 seconds. Mixture will not look homogenous but should be uniformly cut.
Add in spices and red wine and blitz again until uniform. Mixture will look dark and be sticky to the touch.
Portion out mix into 30 gram pieces (which should yield roughly 20 portions), then roll into balls. (You may need to wet your hands every couple of pieces. 
Roll finished balls in chopped walnuts to coat. Cool in fridge for 30 minutes on a plate, then store in airtight container.