Welcome to the No. 1 Ranked Culinary School in America*
Earn an Associate Degree in 14 Months
In a little over a year, you can earn an associate's degree in Culinary Arts, Plant-Based Culinary Arts or Pastry & Baking Arts, and launch a career in the food industry.
Begin your journey today…
By submitting this form, you agree that we may contact you regarding our programs using email, phone or text, including periodic use of automated technology for calls and texts, primarily, to set up and confirm appointments (message & data rates apply). This consent is not required to attend ICE. Visit our Privacy Policy for information or to change preferences.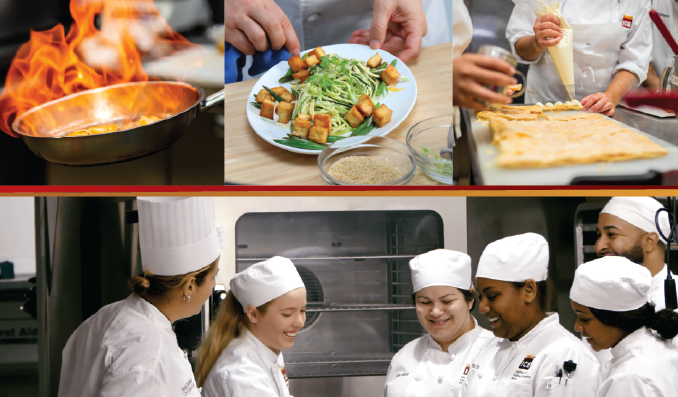 Discover ICE's Unique Degree Programs with Hands-On Industry Training
Culinary Arts & Management Associate Degree
Plant-Based Culinary Arts & Management Associate Degree
Pastry & Baking Arts & Management Associate Degree
Pursue your culinary ambitions with an education that combines hands-on cooking and management classes at our LA campus, with general education courses you can take online on your own schedule. You'll get comprehensive training in professionally equipped culinary school kitchens with quality ingredients and exposure to the business knowledge that secures a solid foundation for future professional endeavors. Plus, you'll begin to build your resume with real-world experience through an off-site externship in kitchens within the industry.
Five Reasons You Should Pursue Your Degree at ICE:
ICE has launched over 16,000 culinary careers. Yours should be next! 
ICE is ranked the "No.1 Culinary School in America"*
Our Chef-Instructors come from noteworthy restaurants and food businesses across the state and country.
Our degree programs include management training for aspiring restaurateurs and entrepreneurs.
Each program includes a hands-on industry externship to provide industry experience and networking opportunities.
Our Career Services team is at your service to help with job placement and career advancement.
Our Los Angeles Campus Thrives on Innovation:
The 38,000-square-foot campus is designed for creativity and community with professionally equipped kitchens and a culinary technology lab outfitted with a tandoor, hearth oven, vertical rotisserie and modernist equipment.
Learning Resource Center is available for research and studying on campus.
Prominent local chefs and culinary experts visit for lectures, panels and demonstrations.